Always wanted to visit San Francisco, but only have a weekend? From gorgeous landmarks to incredible food and historic spots, you could spend a lifetime exploring the city.
Here are the must-go places during your stay: diverse bars and restaurants and fun little neighborhoods, each with their unique spin. Read on for my ultimate travel guide to San Francisco and make a memorable trip to the City by the Bay!
When is the best time to go?
San Fran means mild climate all year round, though there tends to be regular rains between November and March. Typically, there can be significant weather differences in some parts of San Francisco because of the city's large hills and maritime location. Even on a sunny day, things can get chilly! Your best bet is to always carry a jacket, no matter the season.
Where to stay?
Virgin Hotel San Francisco (Downtown)
Address: 250 4th St, San Francisco, CA 94103
Found Hotel San Francisco (Downtown)
Address: 140 Mason Street, San Francisco, CA 94102
What to do and must-see?
1. Haight Street
Haight-Ashbury is an historic hippie vibe neighborhood features with many colorful, well-preserved Victorian homes as the Red Victorian which is one of those places where the hippie culture of the '60s has been preserved.
Location: Haight Street between Masonic and Stanyan, San Francisco, CA 94117.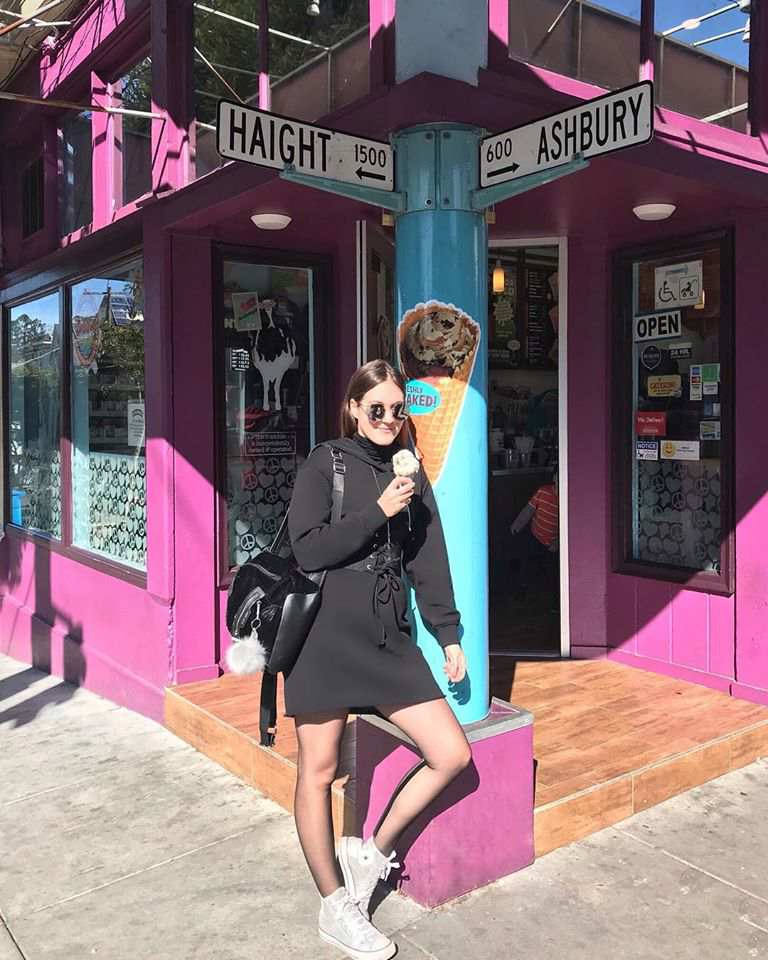 The Haight Ahsbury neighborhood is fulfilled of vintage clothing boutiques where you can shop along the street. Make sure to check out Jammin' on Haight, a "hippie boutique" featuring psychedelic interiors and tie-dye clothes.Visiting record shops as Amoeba Music which is the world's largest independent record store. The store has the most amazing collection of CDs, cassettes, and vintage records that you'll find just about anywhere in the world. City Lights bookstores, dive bars and casual, eclectic restaurants.
Where to eat or drink?
Sparrow Bar Kitchen is a loftlike eatery with 2 levels & a deck features American chow with modern twists plus craft brews.
Location: 1640 Haight St, San Francisco, CA 94117
Vegan Burg is a well-styled counter-serve cafe offering vegan burgers and plant-based New American standards.
Location: 1466 Haight St, San Francisco, CA 94117
2. Golden Gate Bridge
The first thing you want to do in San Francisco is see the Golden Gate Bridge! This is one of the famous worldwide suspension bridge spanning the Golden Gate, the one-mile-wide strait connecting San Francisco Bay and the Pacific Ocean. This is also where many visitors start exploring.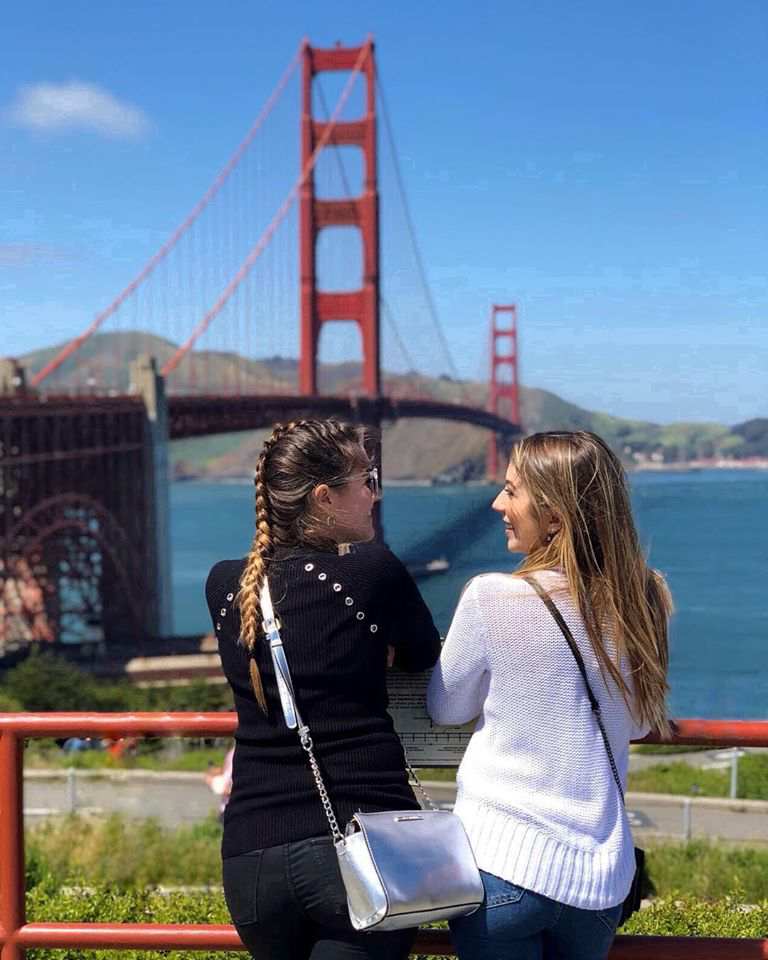 Walk across the Bridge from the city to the other side of the Marin county. You can see the Pacific Ocean on one side and the San Francisco Bay on the other. It's a great place for taking classic San Francisco pictures. Be aware that it is usually cold and windy on the bridge so a jacket is a good idea. Also, wear good walking shoes because the walk across the bridge is over one mile each way. The otter option is to bicycle across the bridge. One of the most popular ways for travelers to get to the other side of the bridge is to rent a bike and ride it across to the other side. Enjoy views of the city skyline and take lots of photos while you're here!
3. Mission Dolores Park
The Dolores Park is located in one of San Francisco's coolest neighborhoods: Mission District. It also and favorite warm-weather destinations. It's electric, artistic, colorful, vibrant, youthful, and diverse. The Mission is the best district to soak up some local flavor.
Location: Dolores St &, 19th St, San Francisco, CA 94114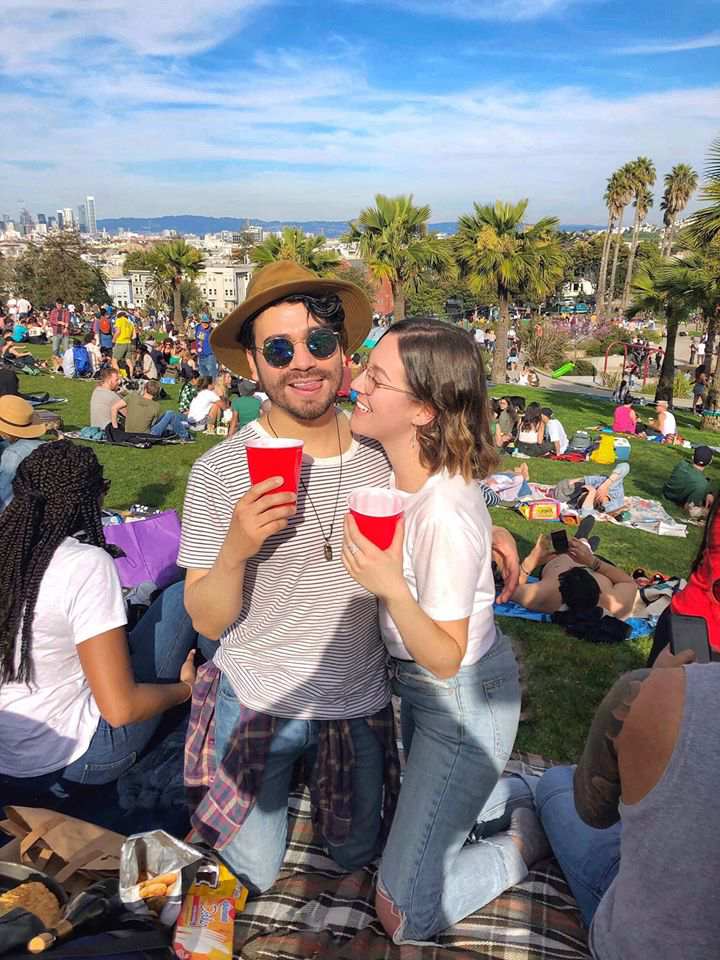 Mission Dolores Park is a city park just two blocks south at the western edge of the Mission District. If you are in the city on April 20th, you can expect thousands of people gathering in the park to light up and celebrate at 4:20pm. Check out the Clarion Alley street which narrow alleyway featuring colorful wall murals by community artists, many with political themes.
Where to eat and drink?
El Techo is a latin american street eats & cocktails are the draw at this vibrant restaurant with a rooftop patio.
Location: 2516 Mission St, San Francisco, CA 94110
Tacolicious is a San Francisco-based, full-service Mexican restaurant with five Bay Area locations. Serving up tacos, ceviches, salads, and margaritas.
Happy hour: Weekdays from 3:00 p.m. to 6:00 p.m
Location: 741 Valencia St, San Francisco, CA 94110
4. Bernal Height Park
It is an hillside park offering sweeping city views, with grassland wildlife habitat, walking trails and sweeping views of the city. This is a residential neighborhood in southeastern San Francisco, Bernal Heights.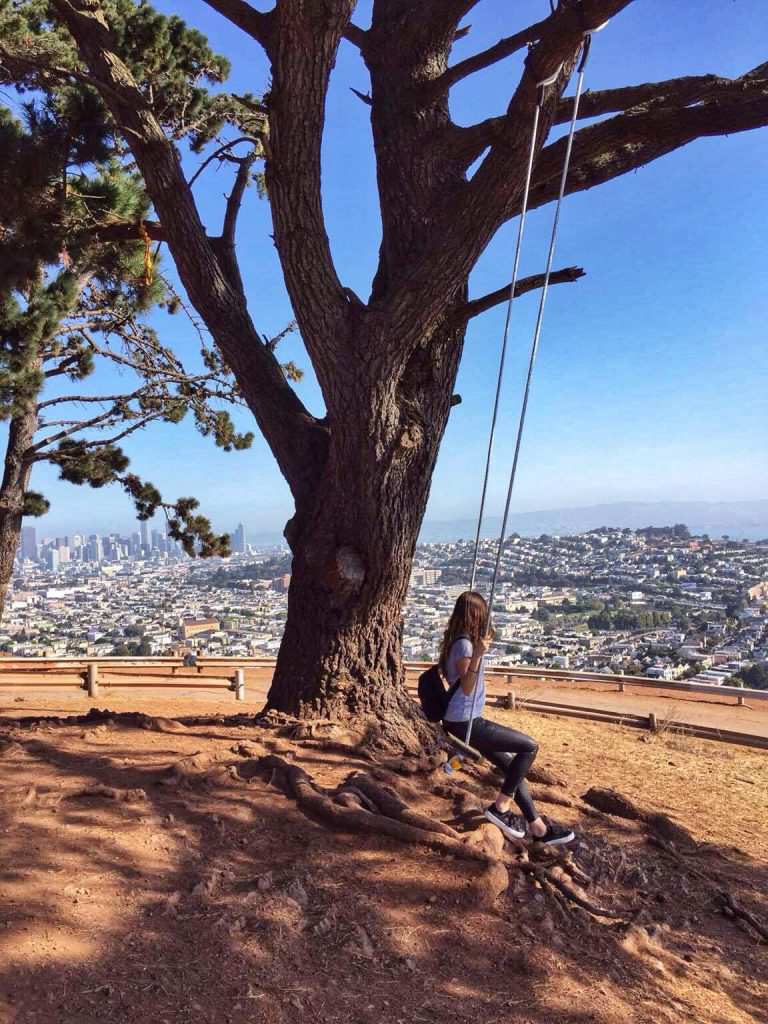 Watch a sunset hill overlooks the San Francisco skyline and features the nearby Sutro Tower which can be seen from the top of the hill. And the best part? It's never too crowded with tourists! It can get a bit windy up here, so make sure to bring a light jacket. Perhaps one of San Francisco's best kept secrets, there is on the dreamy hilltop a swing.
Location: 3400-3416 Folsom St, San Francisco, CA 94110
5. Fisherman's Wharf & Pier 35
Is one of the city's busiest tourist areas on the northern waterfront. Souvenir shops and stalls selling crab, as do postcard views of the bay, the Golden Gate Bridge and Alcatraz from the pier.
Location: Jefferson Street Between Hyde and Powell Streets, San Francisco, CA 94133
Watch a colony of sea lions at the waterfront and do a tour at historic ships to Pier 35. At Ghirardelli Square, shop at boutiques and walk in the famed former chocolate factory. Walk though Pier 39 and note that the boat to Alcatraz Island also departs from this district. Visit the San Francisco Maritime Museum, Musée Mécanique, Ripley's Believe it or Madame Tussauds and the Wax Museum.
Where to eat and drink?
Clam chowder in sourdough bread bowls at Boudin Bakery, famed for sourdough since 1849 which is a California bakery/cafe chain also offers light American bites.
Location: Baker's Hall, 160 Jefferson St, San Francisco, CA 94133
Hard Rock Cafe is a rock 'n' roll-themed chain with a high-energy vibe serving burgers & American classics.
Location: 39 Pier #256, San Francisco, CA 94133
6. Palace of Fine Arts
If there's any place in San Francisco that can make you feel like royalty, it's the Palace of Fine Arts.  One of the most beautiful places to visit in all of the city is the art exhibit created to mimic the impressive remains of a fictional structure. Made up of Greek-style colonnades and a breathtaking rotunda, it is one of the most recognizable features of San Francisco's northern skyline.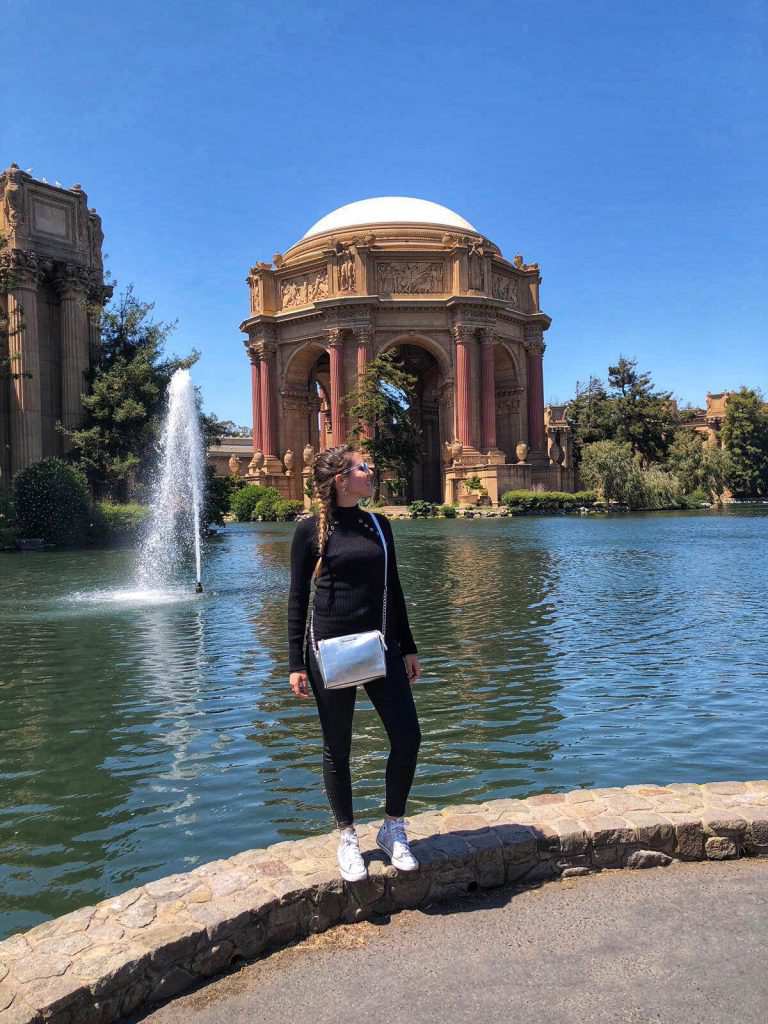 Visit this historic monument early in the day to admire its beauty without any crowds, enjoy an afternoon picnic on the lawn or stroll walk around the lagoon with fish, turtles and swans. It's free to the public and has a unique look as it does feel like actual ruins you are walking through.
Location: 3601 Lyon St, San Francisco, CA 94123
This was my Ultimate San Francisco Travel Guide! I hope this will help you plan your perfect trip to San Francisco!
Here are my discounts code and good deals:
Get %25 off when you book for the first time with Booking: "555172C9"
Airbnb is also a great way to arrange accommodation during your visit and offers a variety of apartment and rooms for rent across the city so you can experience the city feeling a little bit less like a tourist. If you sign up with this link below, you will get up to $55 off for your first booking:"LAETITIAP1519″