It's October 24, 2016 and I'm sitting on a plane that's flying from Mexico City to New York, and I still haven't fully acknowledged where I am. Am I afraid? Am I excited? Am I even ready? I have no idea what's waiting for me, but I hope it'll be good. I'm going to live with an American family near Boston, who has 2 boys: 8 and 11 years old.
Nearly two years later, it's September 2018. I'm leaving the program in three days, my bags are packed and I'm sleeping on an air mattress downstairs because someone else is in my room—or is it her room? I can't even look at all my stuff without crying. I am scared again. I've built a life here, a home, a family, a new me … and now I have to leave all of that behind to start a new life. I am not the same person who came here two years ago. I can't expect things to be the same way they were in 2016 simply because I've changed.
In my home country of Mexico, I lived in such a small town that everyone knew each other. I lived 18 years of my life being known as someone's sister, someone's daughter or someone's granddaughter. I never really had the chance to introduce myself as just … me. There would always be someone who knew someone in my family and would therefore compare me to them.
But not here. When I came to the United States, and arrived at the Training School, I took a deep breath and said, "Hi, I'm Melanie." And just like that, my story changed. From that moment on I would be who I wanted to be and I'd be known only for whatever I did or said.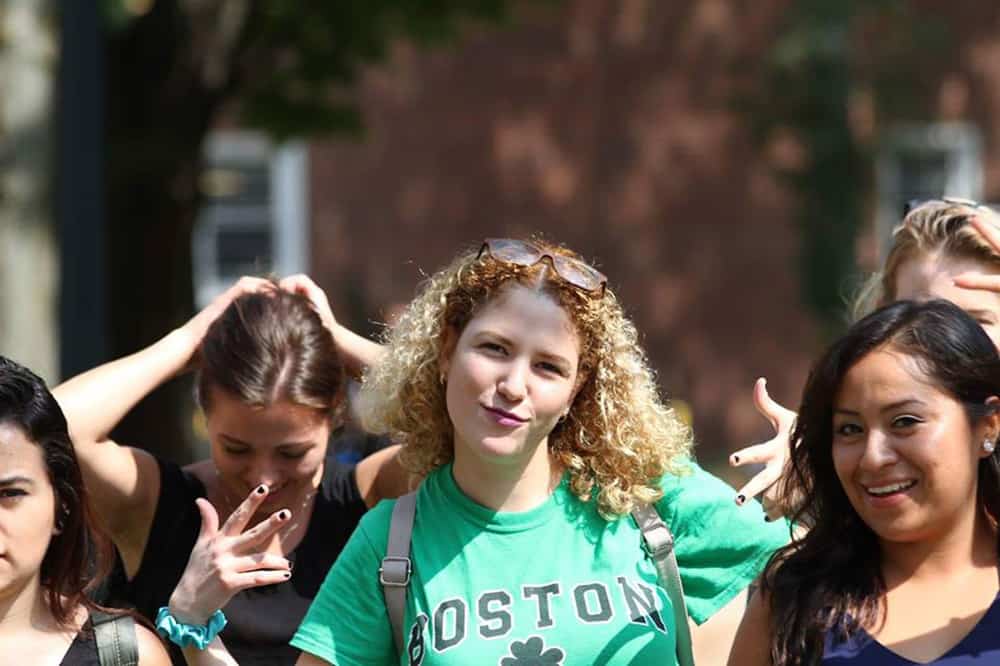 One of the things that I threw in the trash can in my room when I started unpacking two years ago was my insecurities. In just 23 months, that room saw me evolve in more ways than I could count. I grew from a caterpillar—a girl so uncertain that she wouldn't wear her hair down long—to a butterfly. A woman who wouldn't even look at herself in the mirror before leaving because she was confident and self-assured. And because she didn't feel the need to impress anyone anymore.
I started exercising. I lost weight, dyed my hair a thousand times, changed my style, went back to hoodies, started to wear pajamas in the morning for drop-off, and used a little less makeup. I became so confident that I just wanted to show it somehow. Even my followers on Instagram changed. I went from 40 followers (I'm sure 10 of them were spam) to nearly 2,000. Two thousand people from all over the world somehow found interest and motivation in my posts. This happened because of the takeovers that Cultural Care allowed me to do: Facebook live, Snapchat and Instagram (this last one was the one who gave me the most followers).
Flashback to November 2016: It's been one month since I arrived in the USA, and I'm feeling homesick and confused. Taking care of children is harder than I thought. How can a kid scream so much over a broken toy? "Get over it," I'd like to say. Instead I take a deep breath, and say, "It's going to be okay. It always is. Even if it's hard, you just have to focus on the good things and move forward." Those were the words I told my host kid over his broken toy—but the truth is I was actually talking to myself. I recognized how much power my words had and how I could change the way things were just through visualization. I decided to continue and follow my own advice: Focus on the good things, and always keep moving forward.
After many, many challenges, I'm here today in September 2018, the strongest I've ever been. I'm extremely motivated and excited for what's to come. I've stepped out of my comfort zone so many times that I don't know what my old comfort zone looks like anymore. I'm so happy and grateful for everything that's happened these past two years:
I won Au Pair of the Year, an award Cultural Care gives every year. Families can nominate their au pairs by writing an essay on why they deserve the honor—then Cultural Care selects 10 finalists and later the winner.
I also became an ambassador. I now belong to a group of au pairs that help other people in their au pair process come to the U.S.—or while in the country, ambassadors organize meetings and work together to give every new au pair in their group a warm welcome.
I created a fundraiser to help the earthquake victims of Mexico's catastrophe last year by giving away a custom cartoon made by me to every person who donated to any nonprofit organization dedicated to the relief efforts of the country.
I went to Disneyland twice with my host family! It was my chance to live my biggest dream ever—I'm a huge Disney fan!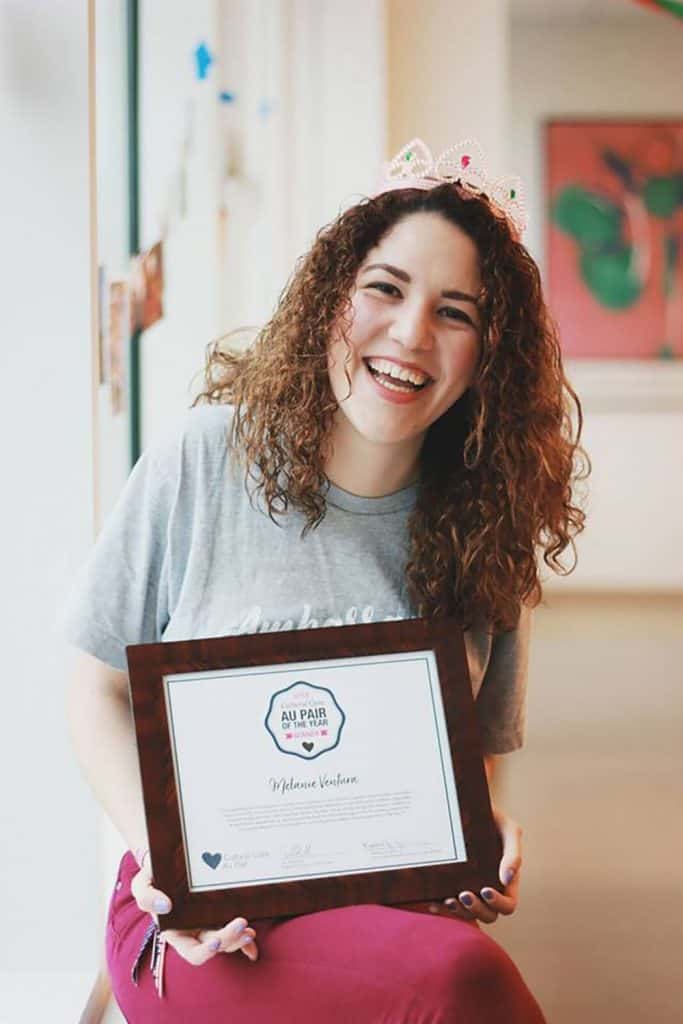 As souvenirs from my experience here in America, I have: A scar in my belly button from a surgery, lots of Cultural Care attire (a backpack, a hoodie, a cap, several shirts, and two pins that say Ambassador of Cultural Exchange), Mickey ears from the best trip of my life, the heart full of love after finding the love of my life, a nice plaque that says "Au Pair of the Year," and, most importantly, the love of two young boys who changed my life. My wonderful host children.
If this was 2016 and someone was telling me I'd have all these things with me by the end of my au pair experience, I'd have a really hard time believing it. After all, how can an insecure girl with a lack of self-confidence like me achieve all that in just two years?
I still haven't solved the puzzle. I just know that everything I did these 23 months was done with my heart. I loved myself and everybody around me as much as I could. I faced my fears, explored the world around me, made friends from all over the world, played baseball for the first time, spoke English without fear of making mistakes (even if I did make them), said "hi" to that cute boy in the cafeteria, hit the treadmill, sang karaoke, and, above all, said yes as much as I could. Yes to life, yes to love, yes to myself. I did everything I could to teach my kids that anything is possible when you work really hard, and I tried to show them by example that even an unknown person like me can make an impact in the world—and raise over $5,000 to help with the relief efforts of a country after an earthquake—with perseverance and persistence.
Now, my story is being heard by many girls who are coming here looking for adventure. I'm trying to inspire as many people as I can by telling them to keep working hard and that in the end, everything will be great. Being an au pair was definitely not always an easy job, and I stumbled a couple of times throughout, but I kept myself motivated. Every day, I reminded the insecure girl that she's worth it and she deserves to be happy.
America is the land of opportunity, so I took my opportunity to transform myself into the person I always wanted to be. I changed myself, so I could then help change the world.